Most active user is consuming 200GB per month on trial LTE network

O2 has been running 4G network trail in London since December 2011. Today, the operator released a few headline results of that trial, timed to coincide with the completion of the analogue-digital TV switchover in London — even though O2 was using trial spectrum at 2.6GHz, not the digital dividend frequency band at 800MHz. O2 said the trial has seen speeds of up to 150Mbps, hit click to bang rates (latency) of less than one tenth of a second and enabled 40MB file downloads in a matter of seconds.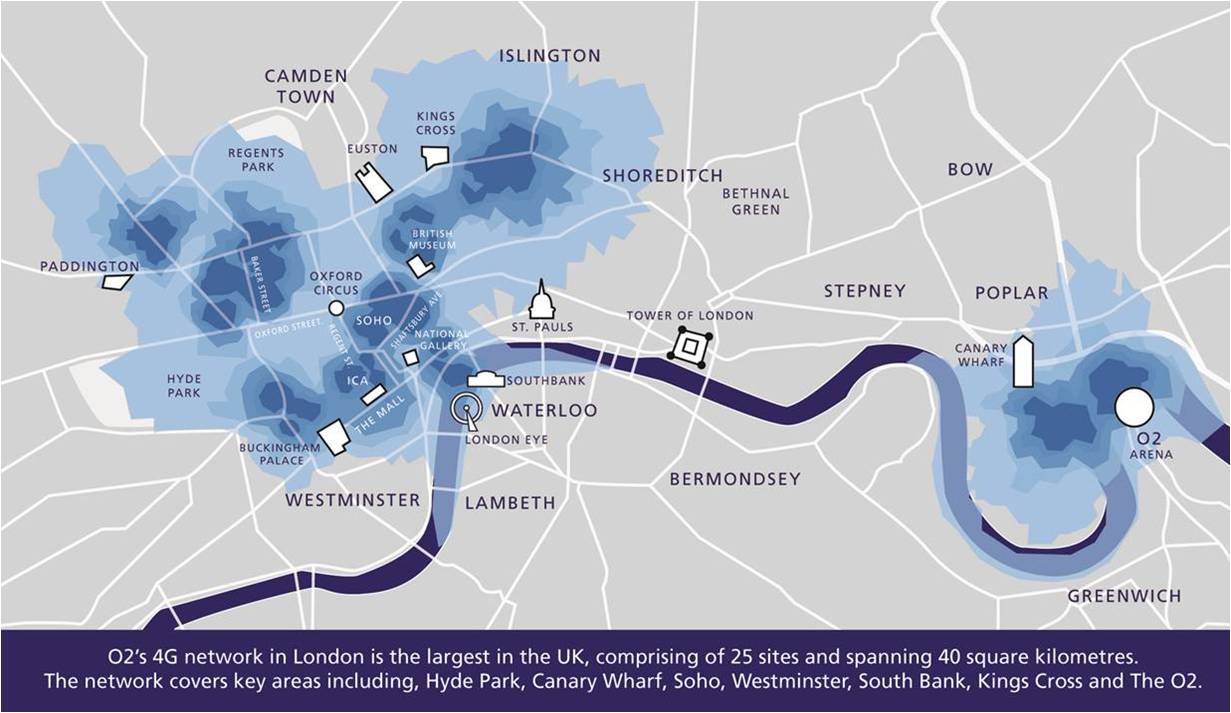 Trial results
O2's 4G network is achieving speeds up to 150Mbps
With around 1,000 people on the trial, speeds of between 20 – 50Mbps have regularly been experienced - over 20 times faster than 3G
A 'click to bang rate' of 0.07 seconds
For businesses, cloud-based services will be revolutionised, 40MB files can be downloaded on the move in a matter of seconds
Most active member has been using 200GB per month using just a Samsung dongle or personal mifi hotspot
About O2's 4G London Trial
In December 2011 O2 launched the first 4G network in central London, which is the largest 4G trial network in the UK
The trial includes 25 sites and covers an area of 40sq km, stretching from Hyde Park to Canary Wharf and The O2, including Canary Wharf, Soho, Westminster, South Bank and Kings Cross
1,000 consumers and businesses were invited to join the trial to test and experiment with 4G speeds
Politics
O2 said that the trial is proof that it is "serious" about 4G, and said that the forthcoming spectrum auction is "a watershed moment for the UK mobile industry, releasing the airwaves that will power a whole range of exciting next generation mobile services."
The operator repeated its support for Ofcom's latest publication (published in January), which details modifications in its terms for the forthcoming spectrum auction. This comes as a result of the first consultation process, which it contributed to. "The key objective of the 4G auction should be to ensure that operators are able to exploit the full potential of the spectrum, in order to deliver true connectivity for the benefit of consumers, business and UK plc," its statement said.

Ronan Dunne, Chief Executive Officer of Telefónica UK (O2), said, "The forthcoming spectrum auction is a watershed moment for the UK mobile industry, releasing the airwaves that will power a whole range of exciting next generation mobile services. The new spectrum will increase capacity, quality and speed (we estimate that mobile broadband capacity will increase by 20 to 40 times from today's levels), and will allow us to deliver true connectivity through a suite of innovative digital services, that work seamlessly and at speed for the benefit of consumers, business and UK plc."