The benefits of white space technology fuelled some debate amongst attendees at the Future of Wireless International Conference 2013 on Monday, who gathered to discuss the Internet of Things and Machine-to-Machine technology.

Qualcomm caused something of a stir by taking a sceptical view of white space, which shocked many of the attendees, particularly as Cambridge has been the heart of the UK's white space trial since 2012.
"It's not as glorious as originally thought. My bias comes from what I see happening in the US – the US is trying to gather that spectrum back up and sell it to raise money for the government," said Bill McFarland, Vice President, Technology for Qualcomm.
"The result of that is that there may be relatively little spectrum left over for this kind of unlicensed application where a sensor could use it. I think that white spaces probably won't prove to be very good, available mobile spectrum to use, so it's likely that people will have to resort to the other unlicensed bands that are already available such as 900MHz, 2.4 GHz and 5GHz."
McFarland also fears that white space will not gain momentum if it is not "legally available internationally", once IoT devices come onto the market.
"Even if the UK has good availability of white spaces, if it's only a few countries or regions then it may be hard for it to catch on. Since North America is moving away from it and the spectrum was never allocated in China or Asia, you may find it difficult to build momentum behind it," he added.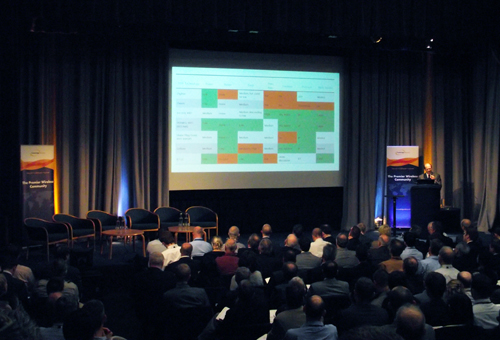 Qualcomm's Bill McFarland discussing the various wireless technologies and whether he sees a future in them
Richard Walker, Head of Wireless, The Technology Partnership (TTP) strongly disagrees.
"I was highly surprised by Qualcomm's comment. White space should be seen as the baby steps into shared access spectrum. There's been a lot of work, a lot of trials. In Europe and the US it's quite difficult as there's a lot of use for the spectrum, but in the rest of the world, there's lots of opportunity for white space," he said.
"We did a trial for rural broadband in South Cambridge to a location six kilometres away - that already proves that [Qualcomm] is wrong, as six kilometres is a hundred times further than 2.4GHz.
"White space is a brilliant technology for providing rural broadband in the UK. There's a vested interest from cellular providers and some people have bought spectrum, but this is not a big problem."
Walker also feels that the use case for M2M technology is quite relevant.
"There's a lot of spectrum to solve broadband problems, but white space also offers really good long-range propagation for machine-to-machine. All the other unlicensed spectrums don't have the range, but TV spectrum [does]. It should be seen as an enabler for all other wireless technologies, not just M2M or IoT though."
Accenture's senior manager John Roe feels that the services proposed to be delivered over white space, such as M2M, don't necessarily need to be tied to unlicensed spectrum.
"Every country has its own views around white space. Spectrum is a valuable resource – the services that are delivered over white space don't have to be delivered on unlicensed spectrum, it can be delivered on licensed spectrum, not necessarily in the TV band," he said.
"It's actually a question of proving the technology cheaply and effectively as possible, which probably means doing that on unlicensed spectrum. But once it's been proven, it can be delivered on licensed spectrums."