5G networks are set to generate 26% of wireless service revenue in 2024, according to a new forecast report from Strategy Analytics' Service Provider Strategies service.
The bad news is that this impressive share is not then expected to boost the overall performance of a "stagnating global wireless market".
This is the conclusion of Strategy Analytics' Global Cellular Market: Strong 5G Outlook but Total Revenue and Profits Flat report, which predicts that the 5G market will begin to build real momentum in 2021 as network coverage improves, phone prices fall and use cases mature.
The analysts note that while markets have grown revenue with 4G services, the long-term picture globally has been one where the majority of countries have found that "4G, at best, acts as a modest brake on consumer expectations, fuelled by competitive pressure between operators, to spend less each month on more and more data."
Between 2012 and 2018, when 4G grew from 4% of all mobile subscriptions to 61% globally, service revenue increased by less than 1%. 5G's impact will be equally disappointing, the report says.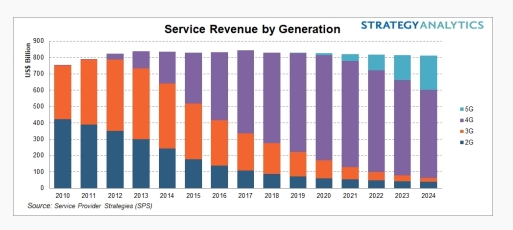 Motivation, not speed
Phil Kendall, Director of Strategy Analytics' Service Provider Group, commented, "There is little to suggest from early 5G launch plans that any willingness to pay a 5G premium can be attached to the service element, rather than device element, of the proposition.
"Once 5G device prices begin to fall in 2021, the challenge for operators will then be how to monetise the significant additional capacity that the more widely deployed 5G networks will bring.
"Success here will come if operators can successfully execute on a needs-based segmentation of their customers' 5G motivations, rather than compete on who has the fastest network and biggest data plans."
David Kerr, Senior VP Global Wireless Practice, added, "4G LTE networks will host over 6 billion subscriptions by the end of 2024, over two-thirds of all wireless subscriptions. Prior to and even alongside initial launches of 5G services, there is considerable time for 4G LTE platforms to evolve though LTE-Advanced and LTE-Advanced Pro technologies.
"LTE continues to have a bright future with much of Africa and Middle East still clinging to older generations."