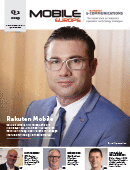 Please register here to read our current issue digitally. Look for an email from us containing a link to this issue. We'll then send you a link to each new issue as soon as it's published.
Please do take two minutes of your time to do this as Mobile Europe contains everything you need you know about mobile communications across Europe. We cover the development of technology, handsets, networks and solutions, allowing farsighted businesses to identify opportunities before their competitors and gain commercial advantage from their insight. Receive each issue automatically by completing this simple form. Thanks for your interest in Mobile Europe.
What is included in my subscription to Mobile Europe?
Your subscription includes 4 printed and/or digital issues per year, daily email newsletters and occasional supplements in print and digital formats.

Can I request a digital only subscription?
Yes, when completing your registration form at www.mobileeurope.co.uk you will be asked whether you would like to receive a print and digital or digital only subscription. If you are not eligible for a free subscription and you pay for yours, the print and digital magazines come as a package.

I registered online but I haven't heard anything for a while.
Mobile Europe is published quarterly so there are twelve weeks between issues. If it has been more than twelve weeks since you registered please contact us at

This email address is being protected from spambots. You need JavaScript enabled to view it.

and we'll look into it for you.

I am a registered subscriber to Mobile Europe but I did not receive my last issue.
Please email

This email address is being protected from spambots. You need JavaScript enabled to view it.

and we will send a replacement issue to you.

When is my subscription due to expire?
You will be contacted prior to your expiry date, however, if you are concerned at any time that your subscription may have expired simply complete a registration form here www.mobileeurope.co.uk

How do I renew my free subscription to Mobile Europe?
You will need to complete a new registration form annually here www.mobileeurope.co.uk

How do I change my postal or email address for my delivery of Mobile Europe?
Please email

This email address is being protected from spambots. You need JavaScript enabled to view it.

with your old and new details and we will update this for you.

The person who subscribed to Mobile Europe has now left the company and I would like to take on their free subscription.
Please visit www.mobileeurope.co.uk to complete a new registration form in your name. To cancel the old subscription please email

This email address is being protected from spambots. You need JavaScript enabled to view it.

or write "gone away" on the address sheet that arrived with the magazine and return it to us at SJP Business Media, Spatial House, Willow Farm Business Park, Castle Donington, Derby DE74 2TW.

How do I cancel my subscription to Mobile Europe?
To cancel your subscription please email

This email address is being protected from spambots. You need JavaScript enabled to view it.

or write "cancel" on the address sheet that arrived with the magazine and return it to us at SJP Business Media, Spatial House, Willow Farm Business Park, Castle Donington, Derby DE74 2TW.

I don't want to receive emails from Mobile Europe.
If you do not wish to receive the e-newsletters or digital issues you can click the unsubscribe link on the bottom of the email at any time and choose your preferences. If you wish to be removed from all Mobile Europe emails for good (including communications about your subscription) simply email

This email address is being protected from spambots. You need JavaScript enabled to view it.

and we'll add you to our blacklist.

How can I order a back issue of Mobile Europe?
If you would like to order a printed copy of a back issue simply call our Customer Services team on +44(0)1635 869 868 or email

This email address is being protected from spambots. You need JavaScript enabled to view it.

, there will be a small charge for this service.
RSS (Really Simple Syndication) allows you to see when Mobile Europe has added new content. You can get the latest headlines and articles in one place, as soon as they are published, without having to remember to visit. You can even combine them with headlines from other web sites you like to create your own personal news source.
In order to read an RSS feed you will need a suitable piece of software, such as a web browser, or dedicated news reader.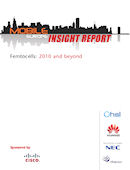 "Femtocells: 2010 and beyond" - a Mobile Europe Insight
Specially commissioned by Mobile Europe from Peter Jarich, Research Director of Current Analysis, this report outlines the current femtocell market, assesses vendor capabilities, looks at operator launch strategies to date, and asks what the principle issues are that the industry needs to address going into 2011.
It's a key resource if you want to understand what the component pieces of the femtocell ecosystem are, how they fit together and what challenges remain for operators to solve.
The report also carries thought leadership pieces from leading players in the space - from Cisco, Huawei and NEC. What do these leading vendors and integrators see as their customers' main concerns in deploying femtocells, and what are they doing to meet those needs?
You'll find the answers to these questions, and more, inside. Please do note that, as ever, this digital report contains a full range of sharing options, so that you can share select pages, articles or even the full report with your partners and contacts.
We hope you enjoy this Insight report, please do let us know if you have any feedback, subjects you would like to see covered in future reports, or features you would like to see.
Mobile Europe Terms and Conditions
Terms of use
Use of this site, and its contents, is subject to the following terms and conditions. By using this site you accept these terms and conditions and agree that you are bound by them. Among other things, these terms limit our liability for any loss or damage which might arise from your use of this site and its contents. These terms and conditions apply in respect of your use of this site on this occasion, and any subsequent use you might make of any material you obtain on this occasion.
Content rights
Mobile Europe and SJP Business Media Ltd are trademarks belonging to SJP Business Media Ltd or its related companies. These trademarks together with any other trademarks owned by SJP Business Media Ltd or its related companies may not be reproduced, or otherwise used or distributed without the prior written permission of SJP Business Media Ltd.
The copyright and all other rights in all of the material on this site are owned by SJP Business Media Ltd or its related companies, or the material is included with the permission of the rights owner. All rights are reserved. As a visitor to this site you may copy or transmit material on this site for your own private, non-commercial purposes only and shall not otherwise copy or transmit the site material.
No part of this website may be distributed, used, adapted, reproduced, translated or copied for any commercial purpose whatsoever without prior written permission from SJP Business Media Ltd.
The information on this site
While we try to ensure that the information on this site is accurate and complete, in no circumstances do we accept liability arising from inaccuracy or omission in the information on this site. We advise you to independently verify the accuracy of any information before relying on it.
Neither SJP Business Media Ltd nor the suppliers of material on this site shall be responsible for or liable for any loss or damage to you or any third party, whether direct, indirect, incidental or consequential, howsoever arising from use of the website. Nothing in these terms and conditions shall exclude liability for personal injury or death resulting from SJP Business Media Ltd's fraud, negligence or wilful default.
Parts of the material may express the personal opinions of their author. We wish to make it clear that these opinions are not necessarily ours. While our editorial staff will take reasonable care and skill in formulating and expressing their opinions, they are intended to stimulate thought and discussion. We are not liable for any loss or damage you suffer as a result of relying on them.
Links to other sites
On this site you will be offered automatic links to other sites that we hope you will be interested in. SJP Business Media Ltd does not accept any responsibility for the content of those sites, the owners of which do not necessarily have any connection, commercial or otherwise, with SJP Business Media Ltd. Nor can we accept any liability for transactions between SJP Business Media Ltd readers and third parties that are conducted through websites linked to this website.
Indemnity
You agree to indemnify SJP Business Media Ltd, its employees and representatives from any and all claims and liabilities (including legal fees) that arise from your unauthorised use of material obtained via this website or otherwise from your breach of these site terms and conditions.
Governing law
These terms and conditions and your use of this site shall be governed by and construed in accordance with the laws of England and Wales.
General
These Terms and Conditions are subject to change.
These Terms and Conditions are governed by English law. You hereby irrevocably submit to the exclusive jurisdiction of the English courts notwithstanding the jurisdiction where you are based.
These Terms and Conditions override any contrary terms or conditions published by us in relation to any order placed by you with us.
Queries
If you have any questions regarding your subscription please contact us at This email address is being protected from spambots. You need JavaScript enabled to view it.