Tefficient has published its twenty-fourth report on mobile data use, analysing 115 operators' data from the first half of this year.
It found that overall, data usage per SIM grew for all of the operators, and for the first time, more than half converted that into higher average revenue per user (ARPU), marked in green on the 'Christmas tree' graphic below – see detailed breakdown here.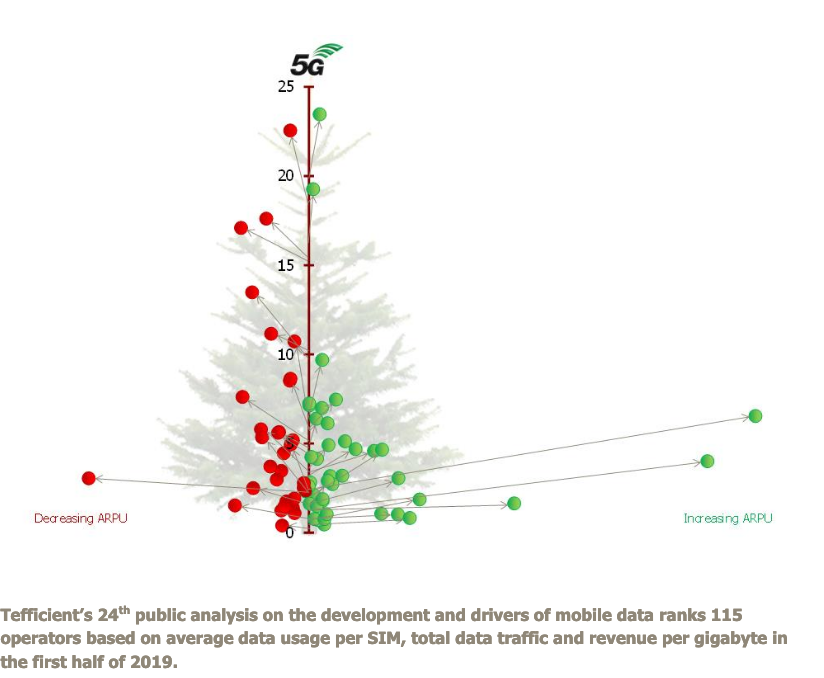 However, it is the Europeans who appear to be the most data-hungry, as Finland's DNA (in which Telenor recently acquired a 54% stake) overtook Kuwait's Zain as the leader.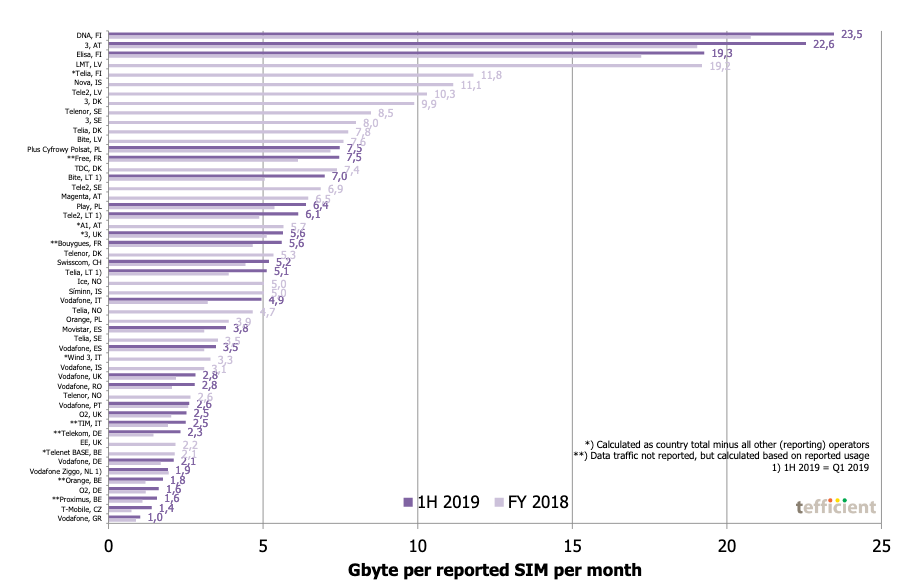 DNA tops global ranking
DNA is ranked top globally: its customers consumed an average of 23.5GB of data a month – the highest average ever, anywhere.
The research house said unlimited, speed-tiered, plans for both data-only and smartphones are a key component of the Finnish market.
DNA doesn't report how large a proportion of its customer base has unlimited plans, but for Finland as a whole, it accounts for 67% of SIMs that are not used in machine-to-machine communications (M2M).
An interesting micro-trend that emerged during the first half of 2019 is that DNA's total traffic fell in Q2 compared to Q1 2019 – an unprecedented event for the operator, but it is not alone.
Tefficient suggests this is an indication that markets offering unlimited data consumption plans are reaching saturation point for data consumption by individuals.
Drei is number two globally
Drei (Three) Austria has climbed one position, to second place globally, since the last report. It carried 43%of Austria's total mobile data traffic in Q1 2019.
This share used to be higher, Drei's competitors, A1 and T-Mobile, have finally moved into the data-only home segment that was previously 'owned' by Drei.
They now both offer unlimited, speed-tiered, mobile data for the home, through hybrid routers that offer faster speeds than Austria's typically slow fixed internet connections.
Unlike Finland, smartphone bundles are new to Austria, and the Deutsche Telekom owned Magenta and A1 (but not Drei) introduced them in the first half of the year.
Zain Kuwait, with 21.5 GB per SIM in 2018, is now relegated to third place in the rankings, but this could be because it only reports its subscribers' data usage annually.
Finland's Elisa (with 19.3GB per SIM per month in 1H 2019) experienced a fall in data volumes in Q2 over Q1 this year, like DNA. Again, this is unprecedented for the company.
Competition fuels Italian market
The fastest rate of growth is found in Italy where Vodafone experienced a rise of 103%, up from 2.4GB per month in the first half of 2018 to 4.9GB per month in the first half of this year.
TIM had a relatively fast growth in per subscriber data usage, which rose by 52% in the first half of this year.
This growth has been spurred by competition: in May 2018, the French company Iliad launched in Italy, offering very cheap data plans, from €6 to €8, and large data buckets of 30 to 50GB.
Iliad said last week that it has acquired 4 million subscribers in the 14 months since launch.

Drei, Vodafone and TIM were all obliged to launch similar products.
Czech rising rapidly
T-Mobile in the Czech Republic saw growth of 89% in its subscribers' data consumption in the first half of this year, although it remains towards the bottom of the European ranking overall.
Again, unlimited plans for home internet have had a big impact on T-Mobile's total data consumption figures in the last year.
Tefficient said its latest country reports shows that these 'fixed LTE' subscriptions in the Czech Republic represented 2.2% of the total mobile subscriptions in December 2018, but accounted for 63% of mobile data in 2018.

The analyst reckoned this might just be the start of Czech data growth – in September T-Mobile started selling two unlimited mobile subscriptions for smartphones.
The cheaper has a top speed of 10 Mbit/s once 50GB has been consumed, while the other has no limit on speed or data consumption.
Towards the tail end
At the other end of the usage growth scale, the Netherland's Vodafone Ziggo achieved growth of just 6% and Vodafone Portugal 13% – but below them in the ranking are some of the operators whose countries are the most associated with unlimited data offers in Europe. This could could be an indication of saturation in mobile data usage, for now at least.
Tefficient concludes, "Much of the growth in mobile data usage has perhaps so far come as a consequence of a gradual change in monetisation policy – allowing customers to shift some of their traffic from Wi-Fi to mobile – rather than a true, underlying demand".
However it thinks that the new speed, reliability and capacity offered by 5G could well set off a new wave of growth for mobile data.